Jordan Kantor
Ratio 3, San Francisco
January 11 - February 9, 2013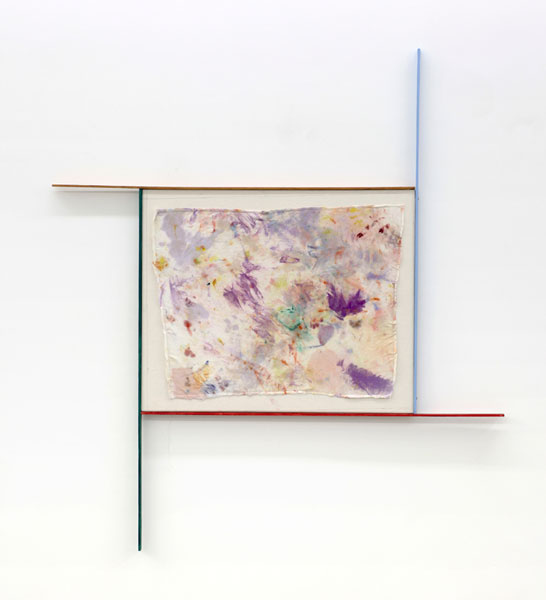 image: Jordan Kantor, Untitled (20A), 2012
oil on cotton and pencil on canvas, oil on wood, 49.5 x 44.5 in. overall
Press release:
Ratio 3 is pleased to announce a solo exhibition of new paintings by Jordan Kantor. The exhibition will be on view from January 11th through February 9th, 2013. This will be Kantor's third solo exhibition at Ratio 3.

The exhibition will feature an installation of paintings that re-purpose materials employed during the process of painting but are rarely considered the end result. This idea is found in a series of colorful abstractions on cotton rags, sewn to canvas. The rags, once used for removing color from a painting-in-process or cleaning a paintbrush, have been gathered, sewn to un-primed canvas, and stretched. Attached to each side of the stretched object is a wooden slat, which has been painted to match a single color found in the cotton rag.

These pieces are shown alongside a group of dark, monochromatic paintings that utilize paint sludge, the usually-discarded pigment sediment that gathers at the bottom of a vessel containing mineral spirits used to clean paint brushes.

Extending these ideas, Kantor investigates the manner in which color is used and interpreted through another series of paintings included here, based upon film stills used in the studio setting. A sequence of ten paintings depict a film test–intended to be used by technicians to calibrate how color is captured and presented on film, not necessarily seen by an audience–of a woman's hand passing in front of various colors of cloth. Elaborations of these color studies are found in Kantor's installation of painted wooden structures that suspend from the gallery ceiling and hang on the wall. These pieces draw from individual colors found in the film still paintings.

Kantor's artwork has been shown in numerous exhibitions, most recently at The San Francisco Museum of Modern Art (2012); Churner and Churner, New York (2011); The Henry Art Gallery, Seattle (2011); Ratio 3, San Francisco (2010); The Seattle Art Museum (2010); Art 40 Basel Statements (2009); The San Francisco Museum of Modern Art (2009); the 2008 California Biennial at the Orange County Museum of Art (2008); Johnen Galerie, Berlin, Germany (2008); Thomas Dane Gallery, London (2007); and Artists Space, New York (2006). In 2010, Kantor became the inaugural recipient of ArtNow International's Pioneer Art Award, which includes a residency at the Kadist Art Foundation in Paris, France. He lives in San Francisco.