101 Collection: Route 2, Undisclosed Destination
CCA Wattis Institute of Contemporary Arts
February 15 - April 9, 2011
Curated by Sharon Lerner
Installation view:
Exhibition Press Release:
Route 2: Undisclosed Destination is the second exhibition in an annual series to be drawn from the 101 Collection based in San Francisco. The preestablished premise for this exhibition is that it is a "collection show," composed exclusively of works by artists working at America's Western end.
This exhibition asks whether there are commonalities among the artworks beyond that aspect of their provenance. And, moreover, whether it is even possible to speak about a common cultural history specific to the West Coast. To what extent can we really generalize about West Coast–based contemporary art? Given our increasingly international art world, many critics would say that the strategies and forms associated with contemporary art from the West Coast do not radically differ from those of practices based elsewhere.
But it has certainly been argued that the setting of this art's production does influence some of its distinct features, its specific flavor. Among these features is an emphasis on the scenic landscape; West Coast cities carry the load of having long served as imagined Arcadias for utopian thinkers and idealists. The city of San Francisco, where this show takes place, seems especially trapped between its amazing natural and urban scenery and a history that seems to haunt it. It thus seemed logical to make landscape, a long-established subject in art, one of the focal points of the exhibition. This part of the show includes straightforward depictions as well as works that deal in a more oblique way with aspects related to the American territory, for instance questioning the way it is understood and represented in the popular imagination, or by presenting it as a beautiful and privileged spectacle ripe for plundering (by the movie industry and others).
A second section of the exhibition is arranged chronologically, encouraging viewers to perceive distinct genealogies of influences and correspondences—or perhaps making the case for a lack thereof. One constant along this path is a mode of production that involves reuse and repetition (of both materials and topics).
Although these forms of organization—by medium, period, or genre—could be accused of corresponding to outdated, museological forms of art exhibiting, they nevertheless constitute a ghostly umbrella under which contemporary exhibition making is frequently measured. As museums are challenged to adapt and expand with the times, to present history in new ways, part of the process necessarily involves a look back at how things were done before. In curatorial practice as well, as the field expands and becomes more sophisticated, analyzing and historicizing past ways of presenting art becomes ever more integral and necessary.
The premises that organize these paths, then, are museological models borrowed and reused—old categories unearthed, re-presented, and merged—to offer the viewer a new way of experiencing determined contents. Route 2: Undisclosed Destination appropriates the metaphorical image of its namesake highway by drawing two different paths that run in parallel, and in tension, through the exhibition space.
After wandering through the exhibition space and seeing it in its entirety, the show seems to function as a theatrical narrative. Its two introductory paths are ominous and in retrospect seem to be constant allegories of their own deaths, and this is no surprise since the contemporary seems to be constantly fascinated with phantasmagoria.
In fact one of contemporary art's most salient agenda items since the postmodern turn is that of revealing the different levels of artifice and construction in historical narratives of progress or development. It could be argued that many of the artists featured in this exhibition are concerned with these issues, and perhaps to a certain extent they are interested in revealing these mythical constructions around the West Coast against the backdrop of a different reality. Whether certain or not the artworks assembled in these paths or "routes," ultimately prove to undermine the very premises under which they have been gathered. In this way, the show's narrative aims to make patent its own artifice.
Featured artists: John Baldessari, Wallace Berman, Elisheva Biernoff, Jedediah Caesar, Geoffrey Farmer, Rachel E. Foster, Rodney Graham, John Gutmann, Todd Hido, William E. Jones, Jordan Kantor, Edward Kienholz and Nancy Reddin, Alicia McCarthy, Gareth Moore, J. John Priola, Stephen G. Rhodes, Will Rogan, Mungo Thomson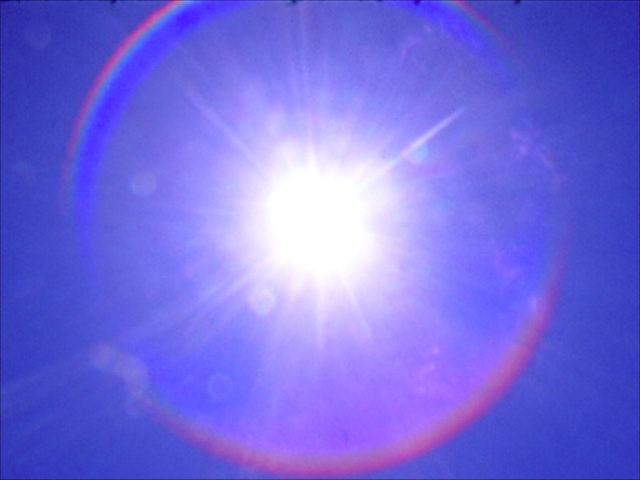 Lens Flare, 2008-2009 (still)
16mm film, color, silent, 3'20", edition 3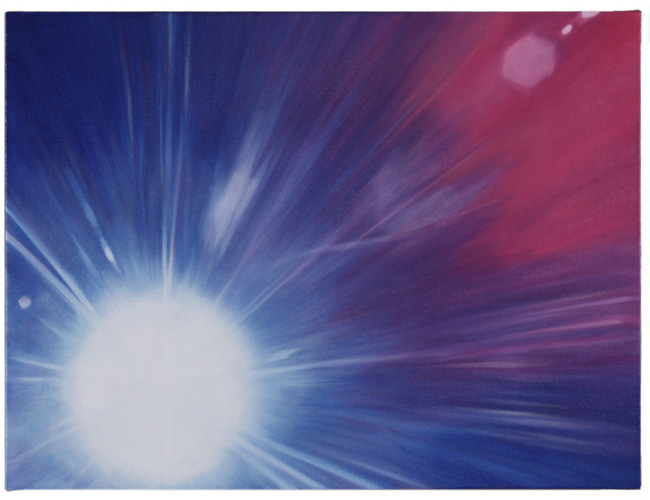 Untitled (Basel lens flare 7497), 2009
Oil on canvas, 21 x 28 in.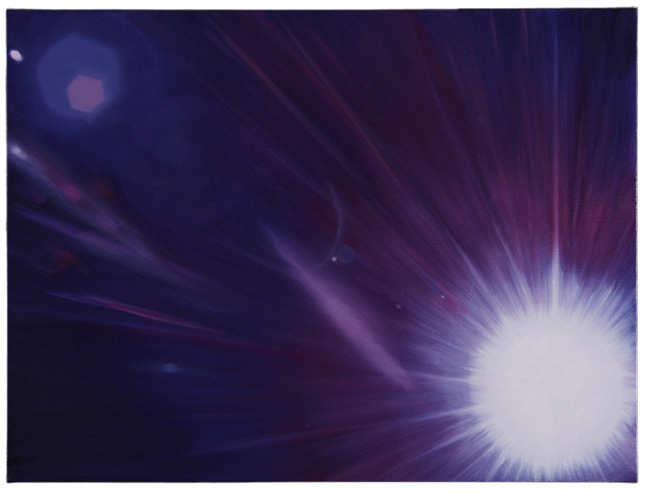 Untitled (Basel lens flare 5950), 2009
Oil on canvas, 21 x 28 in.
Untitled (Basel lens flare 6198), 2009
Oil on canvas, 21 x 28 in.