They Knew What They Wanted
Fraenkel Gallery, San Francisco
July 1 - August 21, 2010
Curated by Katy Grannan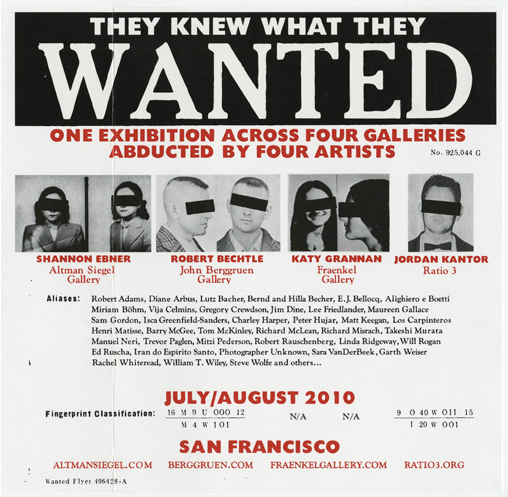 Exhibition description:

Fraenkel Gallery is pleased to announce THEY KNEW WHAT THEY WANTED, a collaborative exhibition in four locations. Over the past winter and spring, four artists were given free rein to explore the racks, print cabinets, and storage areas of four San Francisco galleries. From the same pool of works each artist has assembled an installation for one of these galleries: Katy Grannan for Fraenkel Gallery, Shannon Ebner for Altman Siegel Gallery, Jordan Kantor for Ratio 3, and Robert Bechtle for John Berggruen Gallery. Katy Grannan's installation at Fraenkel Gallery will be on view from 1 July through 21 August 2010.
Katy Grannan's own work in photography examines the desire of her subjects to fofer themselves up to the cmaera lens. The exhibition she has assembled for Frankel Gallery includes the work of painters, sculptors, and photographers, such as Robert Adams, Richard Avedon, Robert Bechtle, Diane Arbus, E.J. Bellocq, Jim Dine, Lee Friedlander, Peter Hujar, Jordan Kantor, Henri Matisse, Barry McGee, Nathan Oliviera, Richard Misrach, Linda Ridgway, William Wiley, Garry Winogrand, and several works by unknown photographers. Grannan lives in Berkeley, California.