2008 California Biennial
Orange County Museum of Art
October 26 - March 15, 2009
Curated by Lauri Firstenberg
Installation views: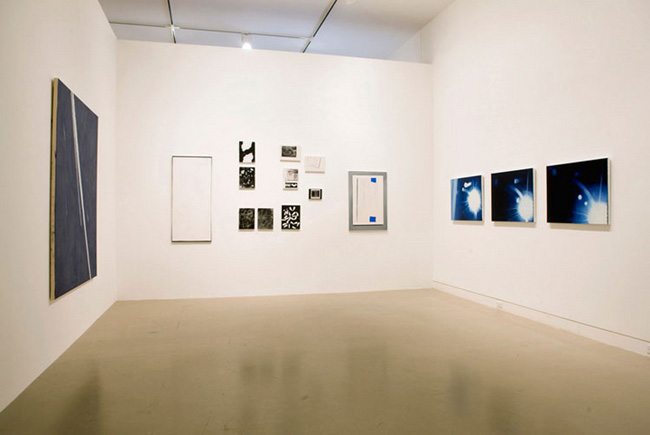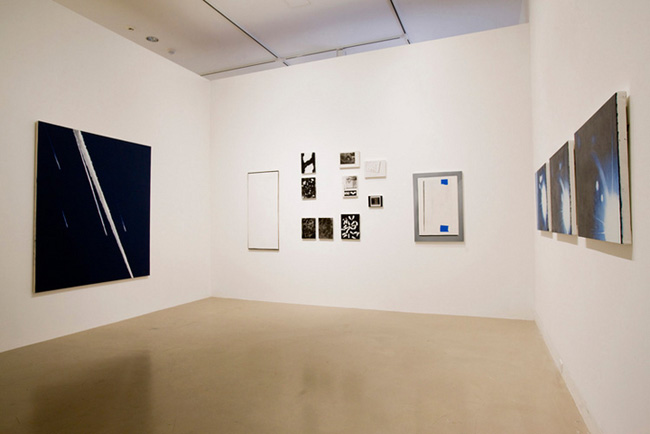 Exhibition Press Release:
The 2008 California Biennial continued the Orange County Museum of Art's four-decade long history of presenting new developments in contemporary art. This year's biennial was guest-curated by Lauri Firstenberg, founder and director/curator of LAXART in Los Angeles. Firstenberg's approach to the 2008 California Biennial was expansive—the exhibition included works by more than 50 artists and, for the first time, incorporated off-site projects with collaborating venues from Tijuana to Northern California. The 2008 California Biennial was on view at the Newport Beach and Orange Lounge galleries from October 26, 2008–March 15, 2009.

CB08 Artist Roster:
Michael Arcega
Edgar Arceneaux
The Backroom
Kelly Barrie
Justin Beal
Walead Beshty
Andrea Bowers
Jedediah Caesar
Sarah Cain
Bruce Conner
Einar and Jamex de la Torre
Felipe Dulzaides
Sam Durant
ESL (Esthetics as a Second Language)
Morgan Fisher
Piero Golia
Gronk
Karl Haendel
Mark Hagen
Skylar Haskard
Patrick "Pato" Hebert
High Desert Test Sites
Evan Holloway
Margaret Honda
Journal of Aesthetics and Protest
Jordan Kantor
Mary Kelly
Tony Labat
D'nell Larson
Elad Lassry
William Leavitt
Matt Lucero
Shana Lutker
Daniel Joseph Martinez
Rodney McMillian
Julio Cesar Morales
My Barbarian
Eamon Ore-Giron
Raymond Pettibon
Yvonne Rainer
Marcos Ramirez ERRE
Marco Rios
Amanda Ross-Ho
Aaron Sandnes
Anna Sew Hoy
Jim Skuldt
Kara Tanaka
Joel Tauber
Ruben Ortiz-Torres
Erika Vogt
Mary Weatherford
Lauren Woods
Brenna Youngblood
Off-site project locations included:
The city of Culver City; LAXART, Los Angeles; Five Thirty Three Gallery, Los Angeles; Japanese American National Museum, Los Angeles; Artist Jim Skuldt's Studio, Los Angeles; MacArthur Park & NOKIA LA LIVE, Los Angeles; The Standard Hotel, West Hollywood; The city of West Hollywood; Hollywood & Highland Center, Hollywood; Glendale College Art Gallery, Glendale; The Lab, Costa Mesa; UAG/ROOM Gallery, University of California, Irvine; Estación Tijuana, Tijuana, B.C., Mexico; Lui Velazquez, Tijuana, B.C., Mexico; EL CUBO at Centro Cultural de Tijuana (CECUT), Tijuana, B.C., Mexico; Santa Barbara Contemporary Arts Forum, Santa Barbara; University Art Museum, University of California Santa Barbara; Queen's Nails Annex, San Francisco; CCA Wattis Institute for Contemporary Arts, San Francisco; Walter and McBean Galleries, San Francisco Art Institute, San Francisco; University of California, Berkeley Art Museum and Pacific Film Archive, Berkeley; and High Desert Test Sites, Joshua Tree with works by Joel Kyack, Hannah Greely, Ry Rocklin, Patrick Jackson, Alice Konitz, Jack Pierson, Yoshua Okon, Amy and Wendy Yao's Art Swap Meet, Jonathan Hernandez, Thom Merrick, The Wonder Valley Institute for Contemporary Art, Julia Scher, Ann Magnuson, Marnie Weber and the Spirit Girls.