Image Processor: Kota Ezawa, Chris Finley, Jordan Kantor
Lombard Freid Projects, New York, NY
April 12 – May 12, 2007

Installation views: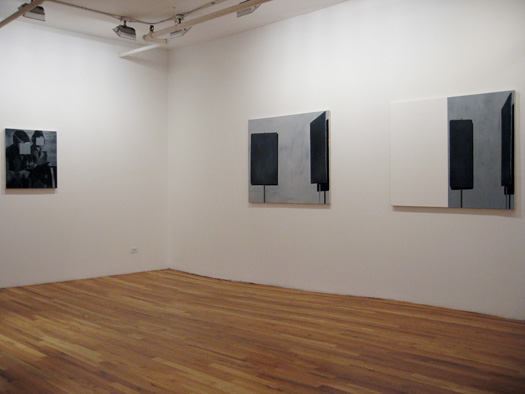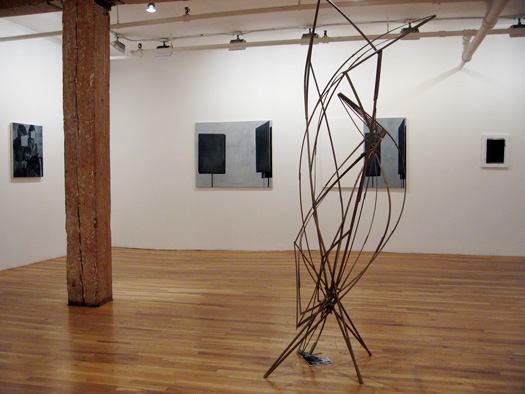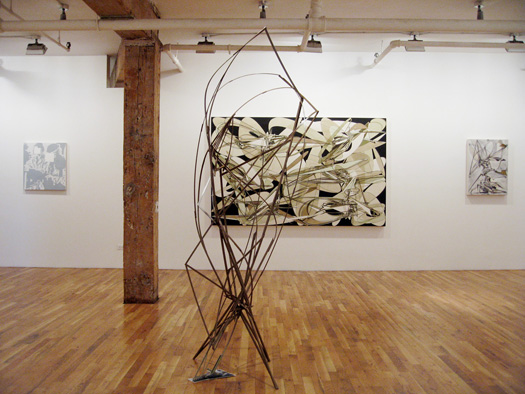 Exhibition Press Release:

Lombard-Freid Projects is pleased to present "Image Processor," a focused group exhibition of recent works by Kota Ezawa, Chris Finley, and Jordan Kantor. Working in a variety of artistic mediums, these three artists share a common interest in how images circulate in mass culture and make their way into works of art. Their paintings, sculptures, photographic light-boxes, and works on paper all ask: how are images reclaimed and "processed" though artistic inflection? Oscillating between figuration and abstraction, Ezawa, Finley, and Kantor all typically begin their artworks with appropriated images taken from pop culture or art historical sources. These serves as springboards for formal and theoretical investigations into the nature of image-making, the circulation of pictorial signs, and the construction of historical truths. More than a mutual aesthetic, these artists share tactics that stem from a critical attitude about contemporary spectacular image-culture.
Kota Ezawa's "The History of Photography Remix" comprises his artistic interpretation of icons of photographic history: those well-known images reprinted in photography textbooks so many times that they arguably become as invisible as they are classic. Ezawa remakes these images through his signature cut-out simplification process in which he digitally re-produces the photographs, and then prints them on transparencies set into light-boxes. Through this process of recasting, or remixing, the most hallowed images of photographic history, Ezawa makes them visible again and comments on how both this history and artistic identity are constantly constructed and re-made. For this exhibition, Ezawa will show works from this series, several of which have never before been exhibited.
Chris Finley makes paintings and sculptures that appear to be completely non-referential abstractions. In fact, each of his works begins with an image—typically taken from the internet—of a popular figure (both Speaker of the House Nancy Pelosi and super-cook Rachel Ray make appearances in this show) which is then put though a series of digital manipulations until it becomes unrecognizably divorced from its source. Among other effects, this intense image-processing calls into question the reliability of images to communicate stable meaning, as well as the phantasmic nature of cultural icons. His recent series of sculptures also begins with a pop cultural image—of a remodeled home taken from the popular television series "Extreme Makeover: Home Edition"—which, though Finley's own extreme makeovers, becomes a lithe, gestural sculpture reminiscent of the constructivist works of historical modernists like Alexandr Rodchenko and Naum Gabo.
Jordan Kantor's paintings also often mix pop culture and art historical references as a starting point, a practice which provides an opening to consider the position of painting today. Having been scanned, cropped and manipulated, Kantor's appropriated images are recast as paintings, which are emptied of their spectacular status by transmutation. These works engage the on-going dialogue between photography and painting and speak to the ways in which images—both literal pictures as well as figures of art history—already occupy, or haunt, the spaces of painting. For this exhibition, Kantor will show two pairs of paintings, in both of which one image serves as a "model" for the other. In such works, the contemporary painter is repositioned, with regard to the medium's history, as image-processor instead of protean creator.
Kota Ezawa was born in Cologne, Germany in 1969 and studied at the Kunstakademie Düsseldorf, before receiving his BFA from the San Francisco Art Institute and his MFA from Stanford University. His work has been show widely nationally and internationally, including most recently in the solo exhibition On Photography at the Santa Monica Museum of Art in 2005, as well as in the California Biennal 2004 at the Orange County Museum of Art, the Shanghai Biennale 5 in 2004, and Out of Time at The Museum of Modern Art, New York in 2006. Ezawa has been the recipient of the SECA award from the San Francisco Museum of Modern Art in 2006 as well as the Louis Comfort Tiffany Award.
Chris Finley was born in Carmel, California in 1971 and received his BFA from Art Center College of Design in Pasedena, CA. His work has been included in numerous exhibitions at such venues as the Museum of Contemporary Art, LA, San Francisco Museum of Modern Art, and the Van Abbe Museum. His most recent solo show was in 2006 at ACME in Los Angeles. He has also been the recipient of the Eureka Fellowship, University of California, Berkeley, as well as the Fleishhacker Award and the SECA award from the San Francisco Museum of Modern Art in 1999.
Jordan Kantor was born in 1972 and received his BA in History and Studio Art from Stanford University. He studied painting at the Hochschule der Künste in Berlin, Germany before going on to receive his doctorate in the History of Art and Architecture from Harvard University. His work has been shown nationally and internationally, most recently in a solo exhibition at Artists Space in New York in 2006, and at the Thomas Dane Gallery, London and Ratio 3, San Francisco. He was the recipient of a Robert M. Golden Medal for studio art at Stanford University and a Center for Advanced Study in the Visual Arts fellowship from the National Gallery, Washington, DC.
Ezawa, Finley, and Kantor all live and work in Northern California, where they are professors in the MFA program in Fine Arts at California College of the Arts, San Francisco.