Jordan Kantor
Untitled (B/W Shelf Cut-Up Piece), 2015
Artist's Book. Bound digital prints, 36 pages, 8-1/2 x 5-1/2 in. Self-published.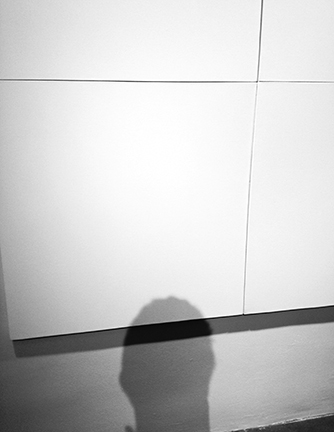 Jordan Kantor's Untitled (B/W Shelf Cut-Up Piece), 2015 is both a cut-up poem and an artist's book. The work is the result of a series of tightly-defined operations and parameters that determined both its content and design. Comprised of thirty-two single lines excerpted from books in the artist's personal library, the poem was composed by a randomizing algorithm that proscribed which parts of the books were excerpted. Additional rounds of randomization determined the placement of each line on its page as well as each page's position within the book. Closely related to the artist's sculptural installation Untitled (B/W Shelf Piece), 2015 (which includes copies of all the excerpted books), Untitled (B/W Shelf Cut-Up Piece) reflects the subjective logic of collecting as well as the mechanistic imprint of formulaic structures.